Big G Express is the Best Trucking Company For Your Business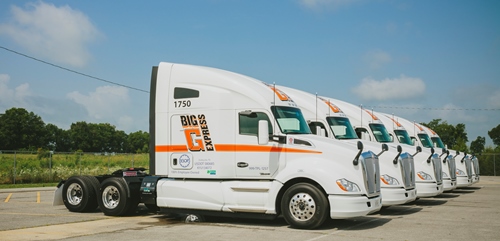 Big G Express is one of the nation's top trucking companies offering state-of-the-art longhaul truckload services to our clients. Our employee-owner drivers care about the business, and they're invested in your success.
Our innovative, specialized trucking services include:
Technology
We place a high value on investing in the latest technologies to ensure our customers' success. We offer a full range of EDI (electronic data interchange) capabilities and customized reports.
High-Quality Equipment
We put our company-owned trucks through a rigorous maintenance program to ensure reliable, safe deliveries.
On-Time Delivery
We're proud of our 98% on-time delivery record, and it's something you can count on when you work with Big G Express.
Customer Service
We don't just go the extra mile. The extra mile is on our way! Everything we do—from our dependable, on-time success rate to our asset-based truckload services to our commitment to investing in the best technologies—is designed to benefit our customers. Our commitment to service results in many long-standing relationships with our customers.
Safety
Big G Express' commitment to safety has made us one of the industry's go-to trucking companies with a satisfactory CSA ranking, due to our adherence to a rigorous safety training, evaluation and testing program.
Employee Owners
Our drivers are also owners, invested in the success of our clients. As a result, our truck drivers go above and beyond the call of duty to adhere to industry-leading safety practices and promote efficiency and quality.
This is Big G Express
When you work with Big G Express, you get the best of both worlds: You get a company that's big enough to provide the technology and service you need, but small enough that we know you by name.